PHIT Blog
Bastrop County Freedom Colonies
Bastrop County Museum
The Bastrop County Museum has a wonderful exhibit on a series of previously unrecognized Freedom Colonies in Bastrop County. This exhibit has now been moved to the Elgin Depot Museum and will be there until February. People interested in Texas History should most definitely plan to visit this exhibit.
On June 17th, 1865 (Juneteenth) General Granger landed on the coast of Texas and declared all peoples previously enslaved were now free. As soon as word filtered through the state, African Americans began creating new towns and communities. Historically they came to be called Freedom Colonies.
Thad Sitton did yeoman work in the early 2000's tunneling through the written archives for records of the Colonies. But he only had access to written records. https://www.amazon.com/Freedom-Colonies-Independent-SMOTHERS-HISTORY-ebook/dp/B0089Q2NL6/ref=sr_1_1?keywords=thad+sitton+freedom+colonies&qid=1574540391&sr=8-1
Andrea Roberts, a professor at A&M, is currently collecting information about the more elusive oral and community histories of Freedom Colonies. http://www.thetexasfreedomcoloniesproject.com/
A third local historical effort in currently being conducted in Bastrop.
The WPA in the 1930's collected as many slave narratives as possible. The stories are amazing and sad, a tribute to people's ability to survive and maintain their family and their culture and their community under the worst possible conditions. Many of the former slaves stayed on the same plantation and continued to work for wages, many went to the cities looking for new opportunities, many went searching for their children, and many banded together and purchased land to farm in a community of their own. Those last are the Freedom Colonies.
Carol Kysar, an archivist with the Bastrop County Historical Society, also happens to be a member of the Sayersville Historical Association. Sayersville is a rural community in Bastrop County and the association, composed of a grand total of six people, documents its rural lifestyle and history. Each year the association publishes a bulletin or paper.
Kysar had come across a few materials about the Freedom Colonies in the Bastrop County Historical Society's (BCHS) archive and she proposed doing a bulletin on the Freedom Colonies. She conducted some more research and became fascinated with this lost history.
One day at the BCHS museum, Kysar met a visitor named Doris Williams and began talking to her about the Freedom Colonies. Ms. Williams knew some people who had more information and said she'd help. As they were talking, Dock Jackson walked in and joined the conversation. Mr. Jackson is a former Bastrop city council member and he said he would help too.
Kysar scheduled a meeting, and she, Doris and Dock each invited people to come. Twelve people attended. They began meeting every Thursday and at the end, there were 42 people at the weekly meetings. Kysar says it all happened by word of mouth.
Diane Mills heard about the project and approached Carol. Ms. Mills is the granddaughter of Dr. T.C. Franklin, historian and educator who was at one time the superintendent of the African-American schools in the county. Dr. Franklin kept detailed records of everything and Ms. Mills has given his papers to BCHS.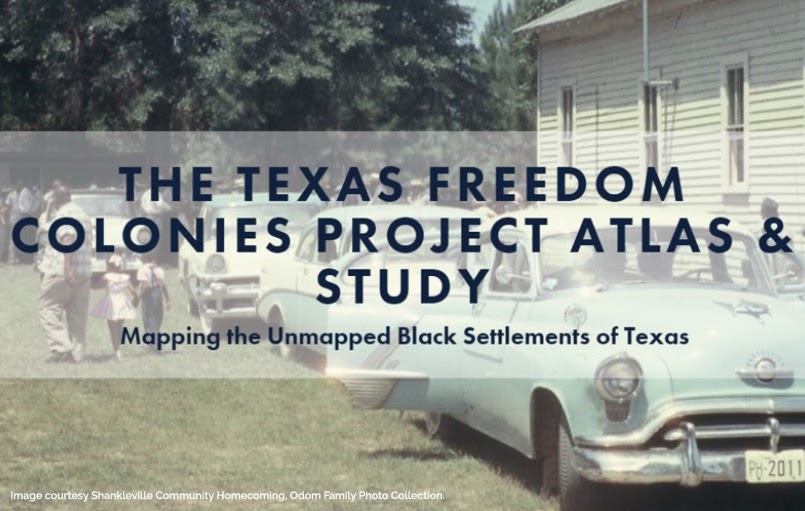 Dr. Andrea Roberts at TAMU leads the Texas Freedom Colonies Project. Kysar said Dr. Roberts contacted them recently about doing a joint project in the future, no details yet. Her website is http://www.thetexasfreedomcoloniesproject.com/
Kysar said they are writing an article for Wikipedia on the Bastrop County Freedom Colonies. The exhibit has now moved to the Elgin Depot Museum and will be there through February. Hopefully, it will bring in even more people who will add to the story.
More info is on their Facebook page at facebook.com/bchs1832 – Museum and Visitor Center Bastrop County Historical Society.
People's History in Texas started a project about a decade ago to document the St. John's colony. We have footage of the trail ride that follows the route from Bastrop to St. John's Colony. There is a stunning sense of the history and tradition in this annual gathering.
We would like eventually to make it available and time permitting will put it up on the website to contribute to this new community effort to remember and preserve the history.