PHIT Blog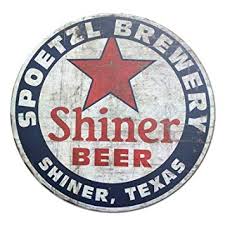 Shiner Beer Documentary 1975
The Last of the Little Breweries, a documentary on Shiner Beer, is an absolutely wonderful piece of history. It was produced in 1975 by Frank Binney. Please take some time and watch it. It is only 20 minutes long. It is well worth the time.
The documentary tells the story of Kosmos Spoetzl and his journey through Egypt, Canada, and San Francisco to land in Shiner, Texas. The German and Czech community liked their beer and wanted it brewed in the traditional Bavarian way.
Binney uses the classic documentary style of illustrating how the beer was actually produced–kind of an Industry on Parade–which I have always found fascinating.
Also fascinating is that tidbit of information that Spoetzl's daughter was the first woman to run a brewery in the United States.
In the Seventies, Budweiser and Miller began the merger wars in the beer industry that eliminated all the small brewers. Then the regional brewers disappeared. By 1990, there were only 10 independent brewers left and Bud and Miller were producing 67% of all the beer in the United States. It was so boring that people began brewing their own and the craft beer market emerged, although craft beer still accounts for less than 15% of the market.
Well…. I fudged….I should say that the beer merger movement had eliminated all the local small regional beer companies –except for Shiner. That story of how Shiner stayed independent is a fascinating one. To be told later.
Shiner is now owned by the Gambrinus Company, based in San Antonio. Gambrinus only produces Shiner Beer and Trumer Beer. Trumer is a pilsner beer and the brewery is based in Berkeley and has a sister brewery in Salzburg, Austria.