PHIT Blog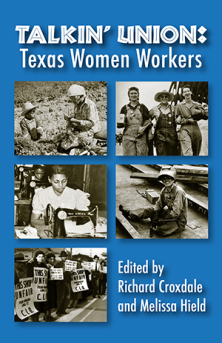 Talkin' Union: Texas Women Workers
More than four decades ago, an enterprising group of young independent historians produced a path-breaking book and documentary, Talkin' Union. It featured one of the first scholarly accounts of the great San Antonio pecan sheller strike of 1938, amplifying the powerful but overlooked voice of lifelong organizer Alberta Zepeda Snid. It uncovered interracial unions among Black, white, and Mexicana women garment workers in Dallas, of all places, as well as their union sisters along the border—long before anyone had heard of maquiladoras. The rare oral history interviews and pioneering scholarly essays in this book have clearly withstood the test of time and will now bring the power of people's history to a new generation of activists!
PROFESSOR MAX KROCHMAL, AUTHOR OF BLUE TEXAS: THE MAKING OF A MULTIRACIAL DEMOCRATIC COALITION IN THE CIVIL RIGHTS ERA

NJP Publishing is proud to announce that Talkin' Union:Texas Women Workers is now available for purchase at Lulu.com. Edited by Richard Croxdale and Melissa Hield with a preface by Glenn Scott, Talkin' Union is the third book published by NJP Publishing as part of a 2019 series featuring women's work, memoir, poetry and history. Talkin' Union tells the groundbreaking story of Texas women pecan shellers and seamstresses who organized for economic and social equality in the '30s. Researchers with People's History in Texas relied on first-hand oral histories and extensive archival research to bring this history to life. The Pecan Shellers Strike is now acknowledged as an historic mass movement, the largest mass strike in Texas, and the foundation for Hispanic organizing for a generation.  The Texas garment workers who organized in the '30s with the International Ladies' Garment Workers' Union have never received the attention they deserve.  Essays from 1979 about African American women and Chicanas in the Texas workforce capture the beginning of a sea change in women's workforce participation that would soon transform women's lives, family dynamics, and the U.S. economy. The material was available for limited distribution as a booklet in 1979, but has been published by NJP Publishing with a 2019 introduction to make this history available through online platforms.Talkin' Union:Texas Women Workers can be purchased at Lulu.com and will be available soon through Amazon, Ingram, and Barnes and Noble.